11 Engaging Social Media Posts That Generate Leads for Your Agency
I'm going to give you 11 engaging social media post ideas so you'll never miss out again on valuable leads for growing your agency because your social media posts are too boring to get noticed!
As a digital agency you excel at growing your clients' businesses, yet I've seen too many digital agencies struggle with creating memorable social media posts and content.
Your social media and digital channels are your shop window to the world. They are your best homepage and sales page combined so make sure you make your first impressions count.
You're in the right place because I've got some easy content ideas that will attract your dream clients like a bee to honey (dream clients are the ones you enjoy working with and who pay your worth, which is wunderbar!)
Plus, I've got two fabulous shortcuts for digital agencies that will save you hours of content research time. Have a look at my video to discover a shortcut inspired by Mike Killen.
Imagine you've got three buckets of social media post ideas just waiting for you to dip into – you'll never be stuck again! These brilliant buckets will help you ditch vanilla content on social and show what makes your agency different and better, so let's get started!

As a digital agency, you're likely to have access to super creative designers in-house (or you might work with another awesome freelancer), yet your own sales content on social fails to get noticed because it's too bland.
The Sales Bucket: non-douchey engaging social media posts
To fix that, here are some non-douchey ideas for promoting your services that go beyond just posting client testimonials (by the way, that's definitely worth doing too and will help you stand out more!)
If you find your creative juices often run dry, keep reading for those two shortcuts that'll mean you never find yourself short of five-star ideas.
1 Before & After Posts
If you work with a brilliant designer for your amazing client projects, get their help in showing off your creative projects. Here's an easy example of how to do this:
Post before and after images for a project to intrigue your dream clients about current client success stories.
For example, if you're a digital agency, share the original branding approach together with the new logo or new homepage or updated social media profiles you've just designed for your clients.

Use your work to make interesting and memorable before and after posts to catch the attention of your dream clients.
And an extra wundertip: Instagram is a great platform to easily share your before and after pics. If you'd like to learn how to stand out on Instagram, this blog might help. Or if you prefer to watch my tips on video, here's the vlog.

2 Count-Down to Launches
Raise excitement across your social channels by having a count-down campaign in the run up to a new service launch. Tease your audience by showing how you're putting on the final touches to the project.
3 Sneak Previews prior to Launches
Ask your audience to DM you if they'd like a sneak preview, and talk about what market developments or client feedback prompted you to launch it – show you're excited about it!
4 Go behind the scenes
Or, offer a sneak peek inside your service. For example, if you offer maintenance plans and share super user-friendly client reports, show them off! Behind the scenes posts are super popular on social.
Engagement Posts for your social media
You run a digital agency, so you know that across all the platforms the algorithm wants to see engaging social media posts, right? So how do you get your dream clients to share, like and comment on your posts?
5 Posting Easy Questions
Most people are on social media because they're either bored or they want to make themselves look good. And there's nothing wrong with that! Tap into this human behaviour by posting questions that are easy and quick to answer.

Let's say you reward your clients with funky merchandise and you're about to update it. Post something like this: "We're designing a new hoodie and mug for our favourite clients; do you prefer A or B?"
6 Entertain
And because we know people might be bored – offer entertainment. Why not make some entertaining Reels or branded GIFs linked to popular social media awareness days or showing what makes you different to your competitors?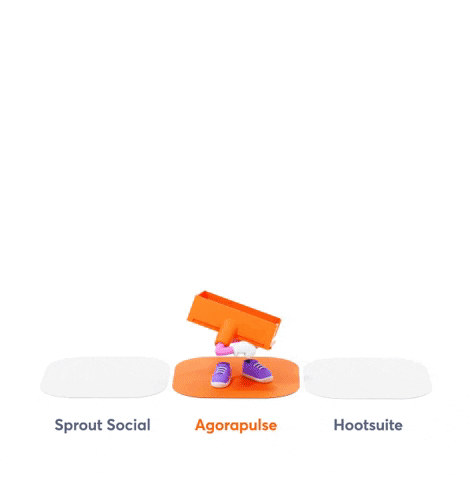 OK, let's be honest! Gifs might not be for LinkedIn, so if you like to get some brilliant LinkedIn specific content ideas for agencies, this vlog with 20 LinkedIn ideas will help!

7 Marketing Trends Poll
If you want to shout from the roof-tops that you're an expert in your field, try this: create a poll about a new marketing trend, then share the results and your take on the implications for your dream clients. That's two content ideas in one!

And if you want to get a feel for what the most talked about issues are, without having to spend hours researching them, the video I mentioned earlier shares a tip from Mike Killen.
Give Amazing Value
Creating social media posts and content that adds value has made a huge difference to my business over the last four years. I started out by sharing personal branding tips and how to do this on a shoestring, and now it's all about tips and shortcuts for digital agency owners. Subscribe to my YouTube channel today.
8 Share Surprising Market Data
How can you give value with your social media posts? Simple! Identify what your audience truly struggles with. What are the latest issues that they're interested in? Why not share surprising market data and how this might help them?
My shortcut to save you tons of time researching your social media posts, inspired by Mike Killen, is to ask yourself a simple question. What events do your audience attend?
Read the agendas, because the presentation topics are likely to be hot issues. What questions could you pose about those hot topics? Or what tips could you share to help people with their issues?
9 Talk About Hot Issues
Ask your audience to add their tips or questions about hot issues too – making sure you're there to answer the comments in a reasonable time. Agorapulse is a brilliant tool for managing comments across all your channels. Click here to receive a 2 month free Agoarpulse trial.
10 Post 'best of' Roundups
Also add value by offering 'best of' roundups. For example, showcase the best websites or social media accounts for a specific sector – and your take on what your dream clients can learn from these examples.
11 Create Helpful Free Resources
Show what makes you different as an agency. Offer a free resource list for your niche or places you and your team get inspired by. The Admin Bar does this really well, and I'm so excited my 30 days of content inspiration for agency owners guide was included in their fabulous roundup blog!
Want more ideas for engaging social media posts?
Every second Monday I share marketing and social media hacks for time-short agency founders on my Wunderstars YouTube channel.
If you'd like even more content inspiration, download my popular free guide for digital agency owners to help you fill these content buckets in no time!